GOOGLE MAPS FOR THE OIL AND GAS INDUSTRY
Plan your operations more effectively, reduce waiting time for your clients. Feed your exploration data with Google Maps and share securely with your associates. Make it easier to find and access your service stations/points of sale.
OUR CLIENTS IN THE OIL AND GAS INDUSTRY



Speed-up Web-to-Store traffic acquisition
Predict the location of internet users and create personalised customer routes. Connect your digital platforms and your points of sale. Engage your users, send notifications via the mobile app when they are near to your service station. Encourage them to visit your service station with personalised offers.
Data intelligence: Analyse your custumer's movements
Becoming a "data driven" business is one of the major challenges facing companies in the transport industry. Use Google Maps Platform data and the geospatial power of Google Cloud Platform to collect data, identify patterns of movement and optimise your activity.
Improve the efficiency of your maintenance operations
Monitor and analyse resources by clicking directly on a specific team and maintenance site on a Google Maps map. Improve the efficiency of repairs and streamline processes with the help of a centralised database allowing you to effectively assign tasks to different teams on the ground.
Woosmap's powerful tiling tool enables retailers to show more than 200 000 points of sale on a map.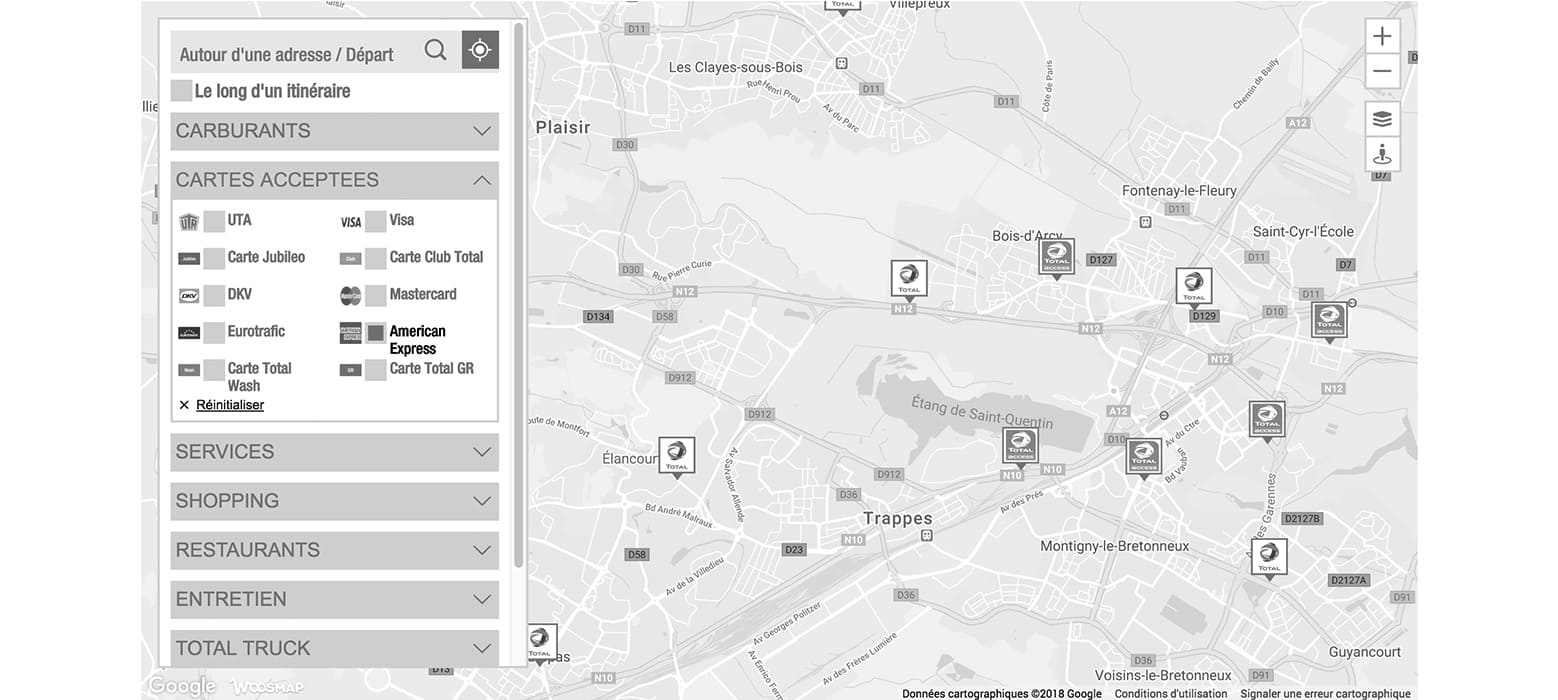 Total
Objective:
Allow Total customers around the world to better locate and visit points of sale thanks to a web and mobile app.
Solution:
Using Google Maps Platform technology to map Total's 200,000 points of sale provides a first-class Web-to-Store user experience. The interactive map incorporates features which encourage a high level of engagement (filtered searches, route calculation…). With this application, Total can suggest personalised promotional offers.
Results:
I Go from more than 1,000 maps to one single mapping module
I Reduced maintenance costs
I Improve performance (faster loading time for maps)