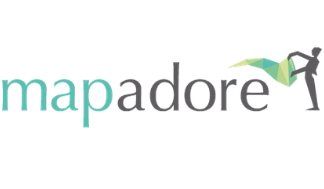 Founded in 2016 with the idea of building Google Maps based APIs, Mapadore provides applications that help sales teams work smarter.
How? By intelligently suggesting the best time-slot, scheduling and route for sales people to visit their customers and prospects. This means less-time spent traveling and planning and more time connecting and selling.
Mapadore was able to add a layer of sophistication to the services they offer to their impressive client list, by incorporating Google Maps technologies into their intelligent solutions for sales planning.
Goals:
Enhance the UX/UI tools they offer, to provide complete visibility for better scheduling and route mapping, specifically for sales.
Better combine artificial intelligence and mapping to increase sales, through optimal organization.
Optimize and scale Google Maps services, for hundreds of enterprise customers' sales teams.
Results:
Halving their clients' average time from "contact" to "contract"
Location data lies at the foundation of Mapadore's optimization algorithms. The relationship between Google Maps Solutions, Web Geo Services and Madapore, is a story of experts getting more out of expert technology.
The challenge? the right tools for the right place & time
With customers from a range of industries and of different sizes, from big corporations like General Electric Healthcare and Air Liquide, to smaller companies like niche design house Studio Volpi, Milan-based Mapadore takes their smart geolocation tools for sales development from Italy to 38 countries around the world, on five continents.
The right fit for Best Fit
A great example is the Best Fit application, built for General Electric (GE) Healthcare and used worldwide by GE service's managers. This global leader in medical technology, GE Healthcare enables clinicians to make faster, more informed decisions through intelligent devices, data analytics, applications and services. Best Fit gathers data from GE Systems and using Google Maps Platform assisted Mapadore technology displays it on a map to suggest which user is the best option to take action on, and in which order, thus saving time through increased visibility on distance and travel time.
Mapadore's ongoing challenge is to extend their clients' sales potential by providing the right tools for optimum visibility and organisation. "Every company, even with limited resources, should be put in the position to increase its performance to its maximum potential. Optimization can be applied to a number of processes: the more you optimize, the more you are competitive on the market," outlines Mapadore Co-Founder & CEO, Fabrizio Bosio. An optimization that comes in the form of automated planning of geo-enhanced meetings. By taking into account where the most relevant clients are located and real-time adjustments that indicate the shortest transfer times between different meetings, time-consuming and non-value added travel and wait time is kept to a strict minimum.
Simplification for sophistication
A unique combination of geolocation—displaying customers and prospects network on a map, and artificial intelligence— ranking customers with the greatest potential allows Mapadore to boost sales activity. "We create tools that solve complex problems with an easy to use UX/UI," explains Bosio. The kind of simplification of the complex, which allows their clients to dedicate more time to innovation and added-value relationship building. Hand-in-hand with Web Geo Services, Mapadore provides full visibility on multiple factors such as: distance, relevance, current agenda, in user-friendly products that harness the potential of Google Maps Platform. From calculating logistic optimization to the Geocoding API, Maps and Places APIs they allow salespeople to see where they will be on a particular day according to his list of meetings he has and suggest the best organization of their business by arranging appointments in an efficient way thus avoiding both unnecessary miles and low margin meetings. Mapadore is all about maximising the potential of sales-ecosystemes, while avoiding wasting time and budget on non-sales activities.
" Mapadore was built with Google Cloud, because of the reliability, scalability and performance it offers. Web Geo Services helped us optimize the use we made of Google Maps. Mapadore and Web Geo Services felt an instant connection. We both speak the same language, so it was easy to collaborate. "

— Fabrizio Bosio,
Mapadore Co-Founder & CEO at Mapadore
Getting there faster with total vision
Mapadore uses Distance Matrix API for travel distance and times, based on the recommended route between start and end points. Sales Managers are able to view and analyze their teams' activities, with an overview of how many meetings took place, the number of kilometres travelled and the travel time. This all clearly displayed on Google Maps, while Sales Reps can calculate driving directions from the application and select the best itinerary. Sales representatives will have the next physically closest customer/prospect, taking into account time slot and distance, thus automating the most efficient way to see the maximum number of contacts in the shortest time-frame.