WEB GEO SERVICES BEREIKT DE LOCATION-BASED SERVICES PARTNER SPECIALIZATION
Google Cloud erkent de technische bekwaamheid en het bewezen succes van Web Geo Services in locatiegebaseerde diensten.
Web Geo Services aangekondigd op 11 april 2019 bekendgemaakt dat het de Location-Based Services Partner Specialization in the Google Cloud Partner specialisatieprogramma heeft bereikt. Door het verkrijgen van de partnerspecialisatie heeft Web Geo Services zijn expertise en succes bewezen bij het ontwikkelen van klantoplossingen op het gebied van locatiegebaseerde diensten, waarbij de technologie van het Google Cloud Platform wordt gebruikt.
Het Google Cloud Partner Specialization Program is ontworpen om klanten van Google Cloud te voorzien van gekwalificeerde partners die blijk hebben gegeven van technische bekwaamheid en bewezen succes op het gebied van gespecialiseerde oplossingen en diensten.
Partners met deze specialisatie hebben aantoonbaar succes behaald in het bouwen en beheren van applicaties, waarbij het beste van Google Maps Platform en GCP in zowel web- als mobiele omgevingen wordt gebruikt.
Jean-Thomas Rouzin, gedelegeerde CEO Web Geo Services: "Het is een eer dat wij de Location-Based Services Partner Specialization with Google Cloud hebben bereikt".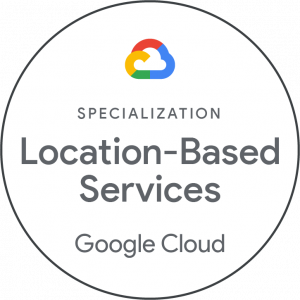 "Web Geo Services heeft een stevige expertise opgebouwd in geolokalisatie en mapping-applicaties. De afgelopen 10 jaar heeft Web Geo Services zijn klanten geholpen om te innoveren door applicaties te maken waarbij de klant wordt betrokken. Als Google Maps Premier Partner, en nu Location-Based Services Partner Specialization, kijken we ernaar uit om onze Google Maps Platform klanten nog succesvoller te maken met locatiegebaseerde diensten", aldus Jean-Thomas Rouzin.